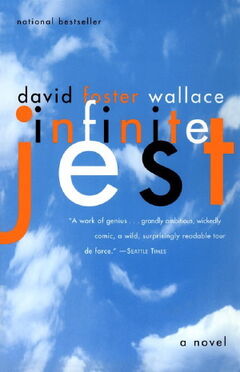 Infinite Jest is the second novel by author David Foster Wallace, and was published in 1996. It is widely considered his most well-known and celebrated work.
Connections
Edit
Infinite Jest has many similarities and parallels with The Broom of the System.
Central families (Beadsmans in Broom; Incandenzas in Jest)
Estranged parents (Stonecipher III and Patrice; J.O.I and Avril)
Coincidences
Conspiracies, hidden or malicious plots
Playing with language
Jumps in time
Therapy
Potentially unreliable versions of historical events
Shifts in narrators
Deceptive doctors/counselors (Dr. Jay working for Lenore Sr.; J.O.I. as the professional conversationalist)
Underground plots to distribute something (the pineal gland drug in Broom; the Entertainment in? Jest)
Stories within stories (Rick's stories; J.O.I.'s films)
Take place in the near future of an alternate-ish timeline
Childhood trauma (LaVache's birth in? Broom; J.O.I.'s death in Jest)
Main characters who question their reality/state of mind
Family members who only communicate with the main character (i.e. LaVanche and Lenore in Broom; Orin and Hal in Jest)
Sons who might have different fathers (i.e. LaVanche in Broom; Mario in Jest)
Heavy substance abuse
Powerful family companies
Substances altering the ability to communicate (i.e. Vlad the Impaler in Broom; Hal and the DMZ in Jest)
Extreme large-scale change in an environment (i.e. the G.O.D. in Broom; the "Great Concavity"/"Great Convexity" in Jest)
Ad blocker interference detected!
Wikia is a free-to-use site that makes money from advertising. We have a modified experience for viewers using ad blockers

Wikia is not accessible if you've made further modifications. Remove the custom ad blocker rule(s) and the page will load as expected.