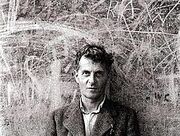 Ludwig Josef Johann Wittgenstein
(26 April 1889 – 29 April 1951) was an Austrian philosopher. His work the philosophy of language and the philosophy of mind are important ideas in
The Broom of the System
.
Wittgenstein is also included in The Broom of the System as an "off-screen" character who taught Lenore Beadsman at Cambridge. Lenore would eventually pass on many of the theories and lessons about language and reality to her great-granddaughter.
Ad blocker interference detected!
Wikia is a free-to-use site that makes money from advertising. We have a modified experience for viewers using ad blockers

Wikia is not accessible if you've made further modifications. Remove the custom ad blocker rule(s) and the page will load as expected.